CAMPER VAN RENTAL MENORCA BENIMAR TESSORO 463
The Benimar Tessoro 463 camper van rental Menorca stands out for its quality finishes and functionality, its luxury and high comfort. Among the equipment, a 220v current converter with a capacity of 2000 watts that is powered by the solar panel stands out. The distribution of the housing space offers maximum privacy. Likewise, it has a TV in the living room and another TV in the main bedroom, ideal for renting a 5-seater rv.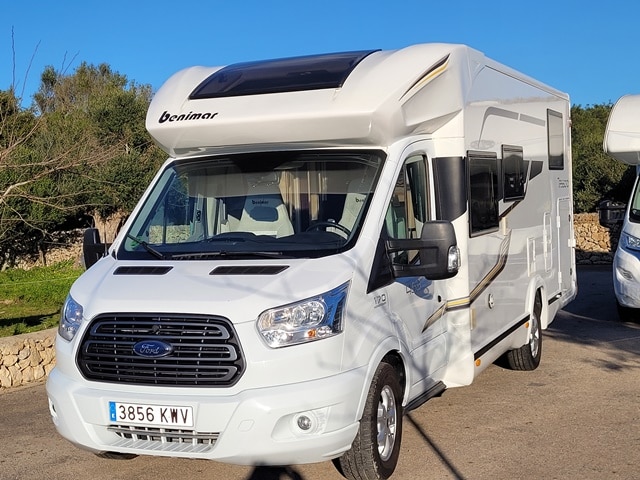 Measures 7,45 x 2,32 x 2,90
Mounted on Ford, 170cv 6-speed Diesel engine, it has air conditioning in the cabin, cruise control, radio, rear camera, and hands-free telephone. Swivel seats towards dining room. Air suspension.
The house has the following equipment:
LED lighting
Double bed convertible into 3 seats 210×185
2-seater tilting bed 180×200
5-seater dining room
Large Heated Garage with Additional Auxiliary
Water Tank
2 burner gas stove,
Large trivalent refrigerator with separate compartment for 9 bottles.
Wide freezer,
Gas heat and hot water
2 TV with directional antenna
Separate bathroom and shower with large screen
2 Wardrobes
External socket 220V
Solar panel
220V converter
Mosquito net and window blinds
Outdoor awning
Extra equipment: 
Folding table and chair for outdoor use 
Light hose and extension cord
Leveling wedges, Fire extinguisher, First aid kit
Triangles and vests
Lingerie and kitchenware
2 propane bottles
Camper Van Rental Menorca in August​
Camper van rental Menorca allows you to have a lot of free time, because it allows you to get to know it without having to drive a lot. We will teach you how the equipment that makes up this world of recreational vehicles works. When you are on the road you will feel the pleasure of having chosen it to travel. Since it has a 170cv Ford engine that gives you excellent performance. It is equipped with a 140-litre fridge, freezer and separate cooler bottle rack. 

Near the beaches you will find public car parks where you can park your camper van. This allows you to believe in a few minutes that you have arrived in a tropical paradise due to the color of the waters that bathe the island. After a good swim you can go to the camper van to recharge your batteries and continue if you want to continue discovering places, or simply rest.
To spend the night on your camper van rental Menorca you have a large bedroom (which accommodates up to 3 people) with access to the shower that is completely independent. Likewise, it has a 1.80 x 2 bed, which lowers electrically from the ceiling, offering ample rest for 2 people. If you travel with your family or group of friends, it is one of the ways to have an unforgettable vacation! You definitely feel like in an apartment, but always where you want to enjoy it. 
Make the decision! Discover Menorca. Make your reservation. Anticipate! The months of June, July and August are the most requested for this type of adventure. Don't stay without experiencing this new sensation. Come and enjoy your vacation! When you finish the trip we would like to know your opinion about your experience.
The vehicle is available on the dates marked in green. Choose the dates and times of your reservation in the availability calendar.