CAMPER VAN RENT IN MENORCA BENIMAR 120UP
The Benivan 120UP is one of the camper that offers you the best transport and housing conditions at the same time. 
The 2023 model is equipped with all the elements. Is one of the best alternatives to discover what your house means to take your home with all the comforts.
 Also known as Autocaravaning Menorca. Above all, due to its 5.95 -meter long dimension, it influences the easy and fast adaptation to this type of vehicles due to their driving.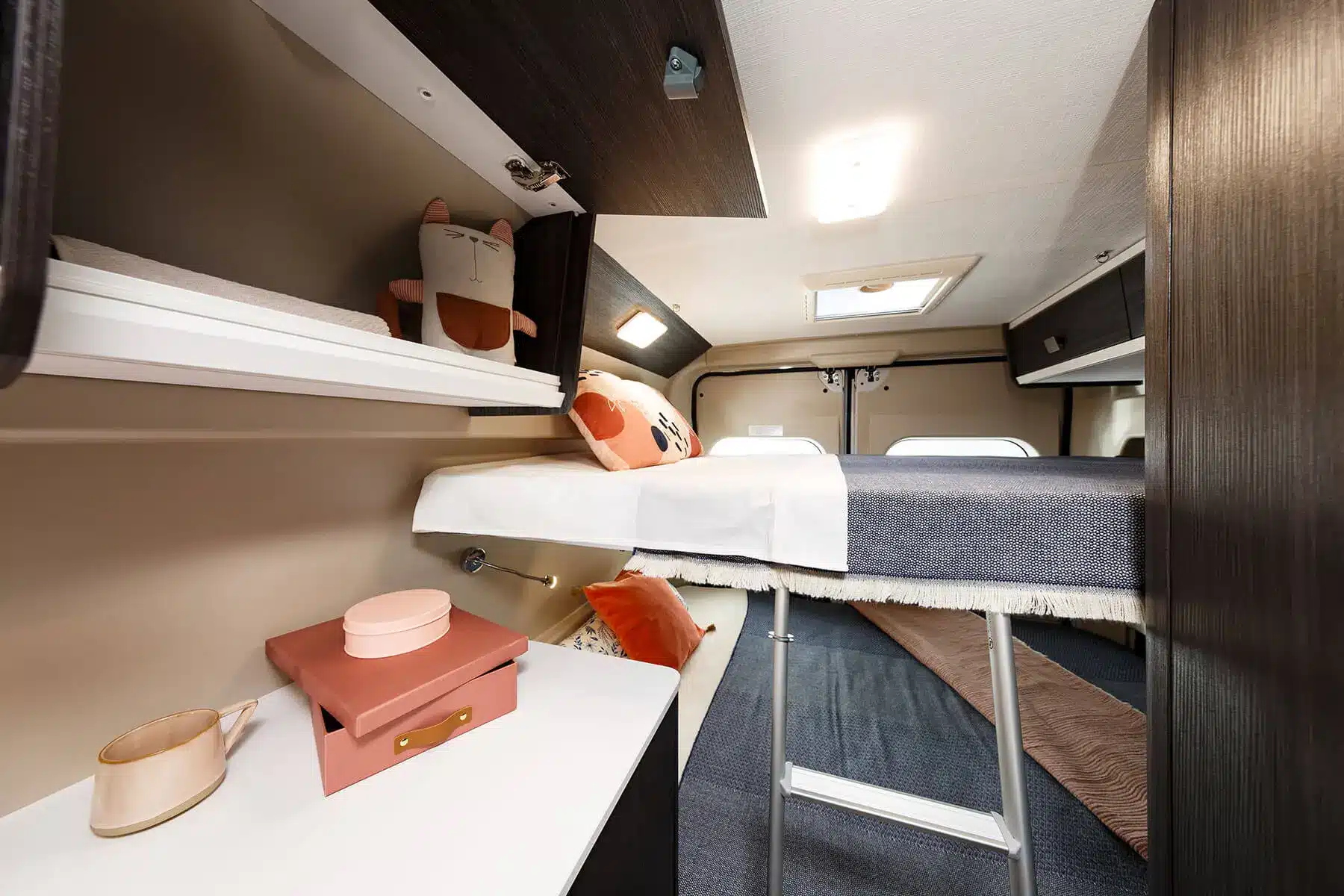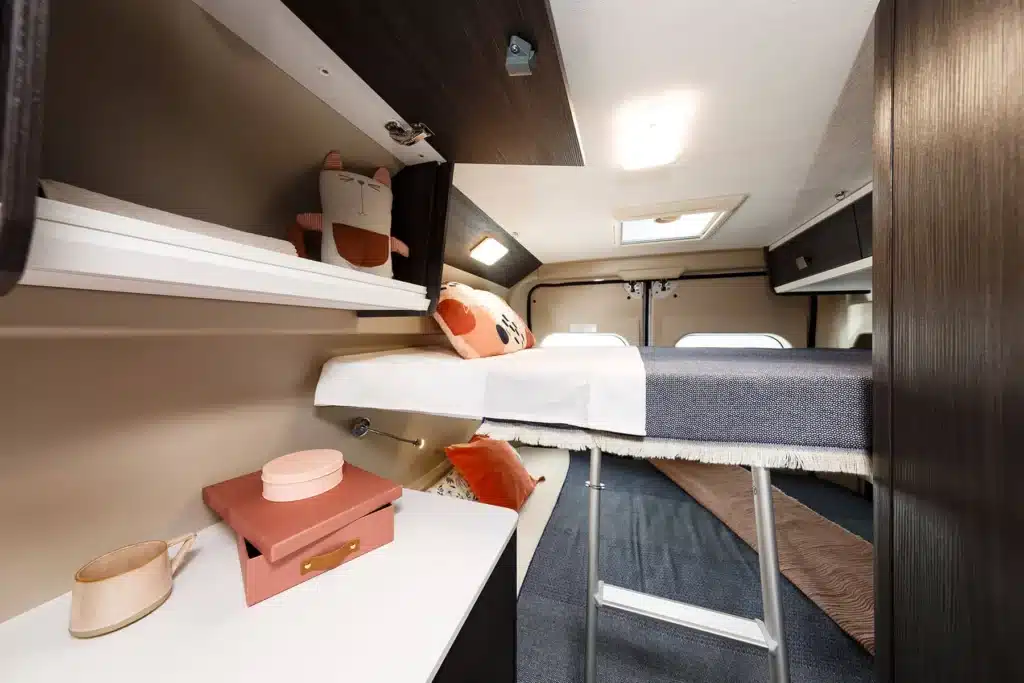 Camper Van Rent in Menorca
Measures 5.99 x 2,05 x 2,65
Know Menorca aboard this fantastic go and discover the magical corners offered by the island.
It will be an unforgettable experience, enjoy this pearl of the Mediterranean.
It has a 140CV engine that gives you the necessary power to travel Menorca with low consumption.
It is equipped with cabin air conditioning, speed control, rear camera helps parking, solar panel, bike holder. Electric step. Hands free.
The house has the following equipment:
1 double bed the 140 × 186
Dining room with removable table for abroad
2 fires gas kitchen
70 liter trivalent fridge
Heating and hot water works with diesel
TV with directional antenna
Shower bath (with window)
Wardrobe
External Take 220V
Solar plate, 220v converter
Mosquito nets and darkers in windows
Skylight
Outdoor awning
Water deposit 100 liters
Extra camping equipment in Menorca:
Foldable folding table and chair
Hose and light elongade 
Leveling wedges, extinguisher, first aid kit
Triangles and vests
Lingerie and kitchen makeup
2 Propano Bombones
Motorhome rental in Menorca with Doral caravans
Of course, that I enter this world of the camper van rent in Menorca requires some familiarization that we are going to try to comment. 
In the first place, to drive it is necessary to be in possession of the driving card B. 
Likewise. As you carry propane gas as fuel for the fridge it is very important to take the necessary measures for its use. 
That is why all these equipment have a passage key and it is advisable that when you circulate they are closed.

Then, once parked we will launch the gas so that we have the equipment active. It should also be noted that you must have the motorhome well level for the proper functioning of its components. 
To do this, we have some heats (which are under the lower bunk) to find the right level.

Menorca motor route
Likewise, before embarking on your Menorca motor route by camper van rent in Menorca.
Closes and secures the cabinets and pantries that are throughout the entire motorhome. In this way, you will have a pleasant trip without shocks. 
You must do the same with the cabinets that are in the bathroom, as well as make sure to close the door of this. Since, 
in some of the maneuvers it can be opened by carrying you a good scare.
With all supervised you can start your trip so you can enjoy everything that comes ahead.
 We indicate these comments from the experience that the rental of motorhomes gives us in Menorca. And having suffered any of these events in our own meats.
When renting this camper we must know that up to 4 people can travel and sleep.
These vehicles that we have for the camper van rent in Menorca are equipped with two water deposits. One for the clean waters and another for the residual grays of the shower or sink.
We recommend that every day you empty the gray waters to avoid bad odors especially in the summer. And once we recharge the clean water to complete for the one we have used. 
It is also important to clean the wader or sewage, with the necessary frequency depending on its use. We advise you to empty it and clean it daily with the same purpose of avoiding bad odors.
The camping experience in Menorca
Camper Van Rent in Menorca, before delivery, we will explain how to do it, but from our experience we recommend doing it daily.
The TV antenna is directional. Which means that when we move from city, we must tune the TV to be able to receive the signal from the different reception channels.
Likewise, before embarking on the trip, it must be reviewed that all the ceiling are closed and secured. In this way, you will prevent the wind or a branch can start, as well as proceed with the windows.
These vehicles are equipped with solar plate, which is auto recharging the batteries, but it does not allow you to be connected all day. However, we give you a 220V current extender.
 This allows you to plug in any street taking and, from that moment, there is no consumption problem. 
There is usually a 12V to 220V current converter that must be connected and disconnected for use.
Likewise, we recommend that you spend some of your self -carvanomous rental days in Menorca in some campsite or in service areas. 
Since they offer you the possibility of having electricity to connect, as well as facilities for loading and downloading waters. Don't miss the camping experience in Menorca!. 
We hope you will serve these tips for the use of motorhome and do these days of vacation and freedom, a unique sensation. 
The vehicle is available on the dates marked in green. Choose the dates and times of your reservation in the availability calendar.