MOTORHOME HIRE MENORCA MCLOUIS C4 281
The McLouis camper that we have for a motorhome hire Menorca is the MC4 281 model. In addition, it has a tilting bed making this vehicle the most exclusive for traveling and the most suitable for Menorca motorhome rental for up to 4 people. Moreover, the distribution of space is extremely comfortable. Since, it offers you a large island bed in the rear that gives you the comfort of accessing from both sides. Also, from this room there is private access to the toilet and shower area.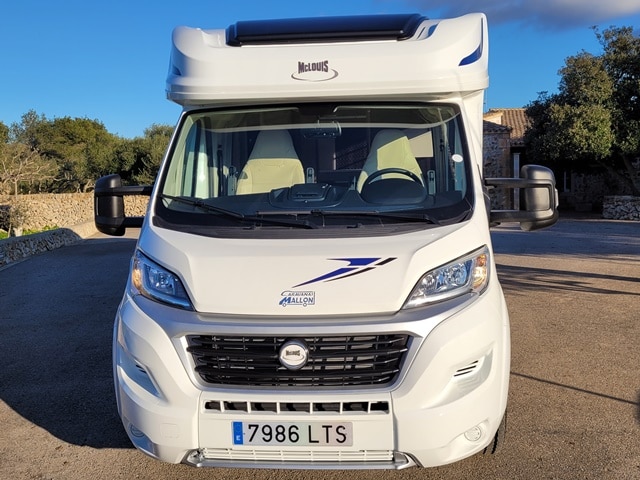 Measures 7,45 x 2,32 x 2,90
Mounted on Fiat Ducato, 140cv 6-speed Diesel engine, it has air conditioning in the cabin, cruise control, radio navigator, rear camera, hands-free telephone, rotating seats towards the dining room.
The house has the following equipment:
LED lighting
Rear island bed 150×187
2-seater tilting bed 130X 200
4-seater dining room
Large heated garage
Gas stove with 2 burners,
Large trivalent refrigerator with separate compartment for 9 bottles.
Large freezer
Gas heating and hot water
2 TV with directional antenna
Separate bathroom and shower with large screen
2 Wardrobes
External socket 220V
Solar panel
220V converter
Mosquito net and window blinds
Exterior awning
Extra equipment: 
Folding table and chair for outdoor use 
Light hose and extension cord 
Leveling wedges, Fire extinguisher, First aid kit 
Triangles and vests 
Lingerie and kitchenware 
2 propane bottles
Motorhome Hire Menorca in August​
When you travel around the island by motorhome we want you to feel at home. The light-toned décor and the number of windows and skylights make this mobile home a space amply lit with natural light. Travelers have ample space where they can enjoy all the comforts. This motorhome mounted on a Fiat Ducato, powered by a latest generation 140hp Fiat engine, offers very good performance at low fuel consumption. 
Start discovering Menorca in a motorhome and enjoy this experience in the company of your friends or family. Menorca receives the wind that rolls in any direction, generally the strongest is from the north and is known as the north wind. Because commutes are short here on the island, it's quick to change parking spaces to the opposite side of where the wind is blowing.
We offer our clients to join us on a boat ride to spend a few hours discovering the island from the sea. You can always combine your trip and get the best price for a 4-seater motorhome hire Menorca. If you take advantage of this opportunity, the result of your trip will be cheaper and of great quality. You can request information through our contact number 672452831. 

We offer you advice on planning your vacations and we provide you with the necessary assistance for your peace of mind. We are going to deliver the motorhome with all the necessary equipment so that only your personal things are missing and you as the protagonist. The equipment of the RV is as follows: Air conditioning in the cabin, GPS, cruise control, windshield blinds and cabin side windows. You must rent now! It is a magnificent motorhome and you will leave totally satisfied with your choice with us.
The vehicle is available on the dates marked in green. Choose the dates and times of your reservation in the availability calendar.