CARAVAN HIRE MENORCA WITH PLA ASSO
The Pla Asso 415 for Caravan hire Menorca is one of the best alternatives to discover what it means to carry your home on your back with all the comforts. Also known as motorhome. Above all, due to its dimension of 5.95 meters in length, it influences the easy and rapid adaptation to this type of vehicle due to its driving. It is mounted on a Citroën Jumper equipped with a 130hp engine. Which certainly gives you the power you need for your weight.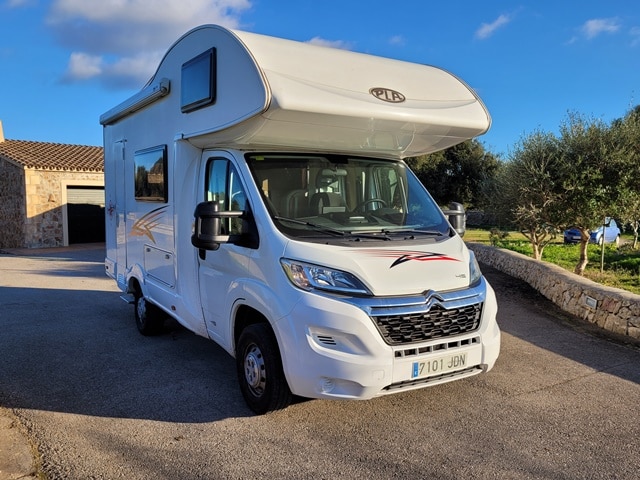 Caravan Rental Menorca with the Pla Asso motorhome

Measures 5,90 x 2,32 x 3,15
Caravan mounted on Citroën Jumper, 130CV 6-speed Diesel engine has air conditioning in the cabin, cruise control, Macron Radio Navigator 10-inch 2-Din screen with rear camera, and rear parking sensor. Hands-free phone.
The house has the following equipment:
Nasturtium double bed 160×210
Dining room convertible into double bed 105×170
Sofa bed 65×185
3-burner gas stove
Trivalent fridge
Gas heating and hot water
TV with directional antenna
Bathroom with shower
Wardrobe closet
External socket 220V
Solar panel, 220V converter
Mosquito net and window blinds
Skylight with extractor
Exterior awning
Extra equipment for Menorca camping with your Motorhome: 
Folding table and chair for outdoor use
Light hose and extension cord
Leveling wedges, Fire extinguisher, First aid kit
Triangles and vests
Lingerie and kitchenware
2 propane bottles
Caravan Hire Menorca in August
Of course, entering this RV world requires some familiarization that we are going to try to tell you about. First of all, to drive it is necessary to be in possession of a B driving license. Likewise, since you carry propane gas as fuel for heating, hot water and a refrigerator, it is very important to take the necessary measures for its use. That is why all these teams have a stopcock and it is advisable that when you circulate they are closed. 
Next, once parked we will start the gas so that in this way we have the equipment active. It should also be noted that you must have the camper well leveled for the proper functioning of its components. For this, we have some wedges (which are in an external compartment) to find the correct level. 
Mobile Home Hire Menorca
Likewise, before embarking on your caravan hire Menorca, close and secure the cabinets and pantries that are throughout the entire motorhome. In this way, you will have a pleasant and smooth trip. You should do the same with the cabinets that are in the bathroom, as well as make sure to close the door of this. Since, in some of the maneuvers it can be opened, giving you a good scare. Likewise, the wardrobe must have the same precaution of making sure you have closed it correctly. 
With everything supervised, you can start your trip around the marvellous Menorca so that you can enjoy all the good things that lie ahead. We indicate these comments to you from the experience of having suffered some of these events. 
When renting this motorhome we must know that up to 5 people can sleep, although 6 can travel. Since, it is approved for 6 seats on a trip due to the number of belts that it has on the seats. 
These recreational vehicles are equipped with two water tanks, one for clean water and the other for gray residual water from the shower or sink. We recommend that you empty the gray water every day to avoid bad smells, especially in the summer season. And once and for all we recharge the clean water to complete the one we have used. It is also important to clean the water bottle or black water, as often as necessary depending on its use. We advise you to empty and clean it daily with the same purpose of avoiding bad odours.
Menorca caravan for rent
Before delivery, we will explain how to do it, but from our experience we recommend doing it daily. The TV antenna is directional. Which means that when we move from the city, we must tune the TV to be able to receive the signal from the different reception channels. Likewise, before embarking on the trip, it is necessary to check that all the skylights in the roof are closed and secured. In this way, you will prevent the wind or a branch from ripping them off, and you should also proceed with the windows of the mobile home. 
These vehicles for caravan hire Menorca are equipped with a solar panel, which automatically recharges the batteries, but does not allow you to stay connected all day. However, we provide you with a 220V power extension cord. This allows you to drink from the street and from that moment there is no problem with consumption. There is usually a 12V to 220V power converter that needs to be plugged in and out for use. 
Similarly, we recommend a day from time to time in service areas or at a camping since they offer you the possibility of having electricity to connect, as well as facilities for loading and unloading water. Do not miss the experience of camping in with your caravan hire Menorca! We hope that these tips for using the Motorhome will help you and make these days of vacation and freedom a unique sensation.
The vehicle is available on the dates marked in green. Choose the dates and times of your reservation in the availability calendar.