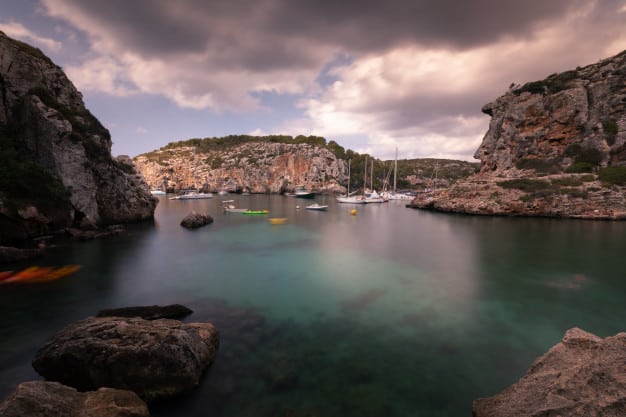 Ideal places for hiking in Menorca
The island offers an unlimited number of hiking in Menorca routes and getting to know each of the special corners.
Ideal Places for hiking in Menorca
If you are one of those tourists who like to enjoy the scenery and a walk.
When exploring the island you should always take into account for this type of activity.
Depending on the times of year, you should take special care to protect yourself from the sun, the wind.
Carry adequate hydration.
As well as good footwear adapted to all types of land for hiking in Menorca.
You should not worry about the unevenness in the terrain, the ascents or descents.
If you have to consider the types of soils, rocks and vegetation is typical of an environment near the beach .
Believe it or not, in Menorca there are already well established and signposted routes for visitors to go hiking.
You can find not only beach and sand with a tropical environment in the Balearic archipelago.
But also a series of paths that will offer you to go around the entire island of 185 km in just over a week, depending on your abilities.
Route through the Camí de Cavalls
The ideal place for a walk in Menorca is the Camí de Cavalls, a route that already has some very well marked routes.
So that those who wish to travel through it can do so with as much information as possible.
The route is divided into several excursions to be carried out at different times.
It's a guarantee that each of them will be enjoyed to the fullest, regardless of the walking pace or the distance.
For example, the section Ciutadella to Cala en Brut is approximately 10km long (counting the round trip) although; it is an almost urban walk, with sidewalks, bike lanes and other demarcations that facilitate comfort on the walk.
Hiking in Menorca
You can also find the famous Section 10 and Section 14, which is recommended for hiking in Menorca for experts because the travel distances per route are 10 and 20 kilometers.
Section 10 will take you from Calespiques to Punta Nati, a very desert area, so it is recommended to do it in groups and bring plenty of hydration if you do it in summer.
In the case of going at other times of the year, you must bring protection for the wind that hits hard, it is also considered a good route for hiking in Menorca.
Section 14, from Galdana to Santo Tomás, 20km of journey through very touristy areas and in the case of feeling tired, there is the possibility of taking a bus that can take you back.
Other routes
For the less expert, there are much shorter walks that require shorter distances to travel.
You can visit Barranc d´Algendar, Cova des Coloms, Castell de Santa Águeda, Cala Escorxada, Cala Trebalúnger or Cala Pilar.
All with distances less than 6 kilometers and that can be enjoyed as a family and go hiking in Menorca taking the precautions of safety.
And, above all, those of food and hydration, because in some of them there are desert sections.
You can also travel by boat or motorhome to enjoy the island!
---
November 11, 2020
---