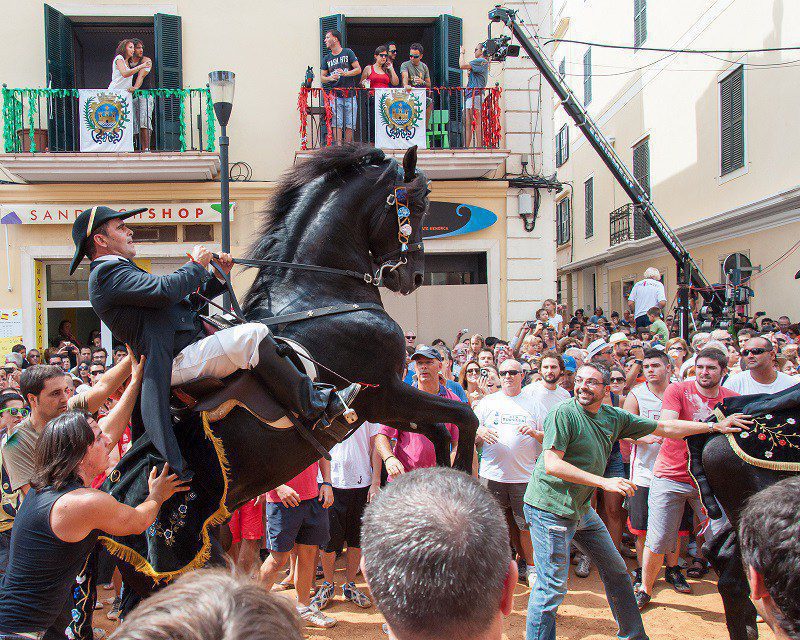 What's the difference between a menorcan horse and other breeds?
The Menorcan horse is one of the best known emblems of the island. It is also the center of attention of the festivities of all the towns and cities of Menorca.
The Menorcan horse.
The Menorcan horse is a breed of the island of Menorca. This type of horse has a very old existence. It is believed that this breed has preserved its existence for centuries and is now one of the icons of Menorca.
Some studies place if origin in the southern horses of the peninsula and is close relative of the  Mallorcan horse and Catalan horse breeds.
We all come to mind the image of a Menorcan horse  in the middle of local festivities. And it's more than two hundred years that they are used for the celebrations of Sant Joan. Long before, they would be used to perform jobs in the fields of farms.
In fact, thanks to the festivities of the island, the demand for this animal has increased exponentially. Now there are many who want to own a Menorquian horse. 
Characteristics of this breed.
This type of horse is an animal of very calm and obedient character. It's also usually very strong.
It is characterized by being black with a long mane. This type of horse is ideal for riding. Usually satisfies all types of rider and is very patient with tourists who want to enjoy a ride around the island mounted on their backs.
Although it is one of the best races for high competition levels and has its own dressage, Menorquian dressage.
The Menorcan dressage is a different variety of dressage recognized by the Equestrian Federation of the Balearic Islands. It is characterized as a sportier discipline with its own rules and modalities.
Its most curious aspect is that the rider must hold the reins of the animal with one hand. The Menorcan dressage has its origin in the traditional festivities of the island.
The Menorcan-bred horse has good character and is easy to train. It is characterized by being a very noble animal.
And that at present, there are more than 3,000 horses of this breed cared for by the Association of breeders and owners of Minorcan horses. If you want to meet a menorcan horse, we recommend that with your rental car visit some of the horse riding  centers around the island. There are several farms that offer visits and excursions varied throughout the geography.
Go with your rental car to them and visit this animal so important to us.
You can also travel by boat or motorhome to enjoy the island!
---
June 30, 2018
---