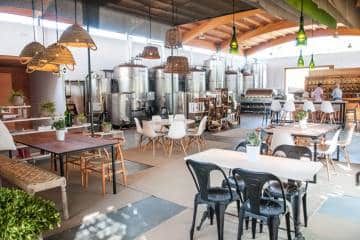 Trendy places in Menorca
In recent years in Menorca there has been a boom in trends, that  young people who live here and those who visit it experience; the most popular trendy places in Menorca.
Early afternoon gathering in Menorca for great fun.
Both in summer and in the other seasons of the year, one of the most trendy places in Menorca is the fish market "Es Mercat d'es Peix" in both Mahón and Ciutadella.
It has become a "go to" these places to do the famous "Tardeo"; everyone goes to these places to have a good time with good music and to have a drink, they also make tapas to accompany the beer or wine.
The atmosphere is fantastic, great vibes with a variety of ages.
When you enter these places you will only see people smile, laugh, sing, dance and have a good time.
People usually go between 12 noon until 5 in the afternoon, some continue their party journey to other bars, where they can finish off until very late.
Paput Trendy places in Menorca
Paput Menorca is one of our favorite trendy places in Menorca to have a drink and eat very well.
This restaurant/bar is a burger and cocktail bar in the port of Mahón.
With views of the port and a very good vibe you will enjoy the experience 100%.
In summer during the week they have themed parties, for example on Wednesday is Juana Banana, an atmosphere that is like you were in South America, on Sundays there is "the nest" where they have great music!
The Paput is only open in the summer season from April or May to October, and they often open for the Christmas holidays.
Other evening-night activities in Menorca
Other places in Menorca in the evening you will always find different things to do; we recommend the night markets that are held in all the towns and that are very well known in Menorca.
Menorcan artisans go to these markets to sell their products, jewelry, clothing, food, etc.
In the central towns such as Alaior, Es Mercadal and Ferreries these markets are held in the streets.
In Mahón, Ciudadela and Es Castell (Calas Fonts) they are held by the ports.
All the towns the night markets are accompanied by good live music and a spectacular atmosphere.
The bars and restaurants set up their terraces and you can have a drink and listen to the musicians sing, this is for sure a great plan.
See the sunset with Jeep Safari
Jeep Safari Menorca has a sunset route, something magical.
They have a private farm in the north of the island where you go enjoy a magnificent sunset without crowds, and also offer a tasting of products from their own farm.
Apart from their famous sunset excursion, they have excursions to places where you cannot reach with a normally.
Their jeeps are well prepared to access difficult places.
They are located in Es Mercadal, about 25 min more or less from Mahón by car.
Very on trendy restaurant in San Luis, S'Olivera
Another trendy places in Menorca if you like very good burgers, S'Olivera de San Luis is a restaurant that makes all the food very good and is open all year round.
They have a very good variety and also for vegetarians, you can order your "veggie" burger at no extra cost.
We also recommend their Deluxe Nachos or their Deluxe Patatas Bravas.
Remember, both in winter and summer you have to reserve a table, so you can imagine how good their food is.
You can also travel by boat or motorhome to enjoy the island!
---
December 10, 2020
---