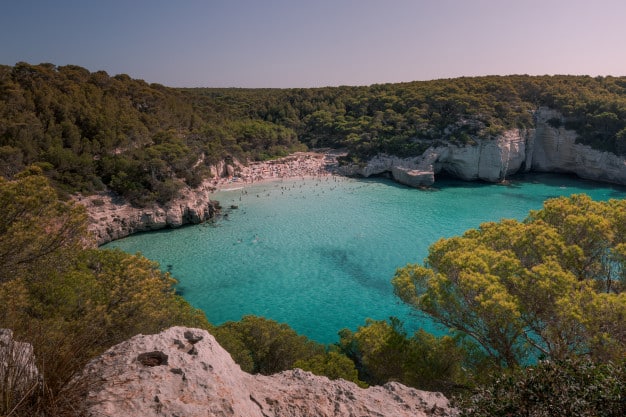 Beaches in Menorca with few tourists
In Menorca we have many beaches but among them we have a large group of beaches with few tourists.
A recurring vision when thinking about the beach is to see many people around you, and more, if it is about going to take a refreshing bath in any of the Balearic Islands.
It may sound strange, but on the island of Menorca there are some places that can be recommended and that are not always saturated with bathers, they usually have beaches with few tourists.
Beaches with few tourists
The beach is for the enjoyment and, the fewer people, without a doubt the better.
There are even couples and small groups of friends who prefer to be away from so many people.
They begin to explore more remote areas where they can be calm without disturbing anyone and with fewer tourists.
Menorca has a giant list of beaches with few tourists and coves that are very famous for being visited by millions of tourists every year.
And there are also spaces that, unlike the others, are known but very few people decide to take a bath in its waters and see fewer tourists.
And it is not that they have bad conditions, perhaps the access is not so practical, nor does it have as many amenities as fresh water
Or beach bars to eat, but it will be a real bet to contact the natural world as exotic as possible.
Of course, there is an impossible guarantee of all the beaches of the Mediterranean Sea.
They are a visual spectacle for those who visit, so there will always be that comfortable feeling of being bathing in a place like the first time.
Places in the north with fewer tourists.
Although we are not going to cite precise figures or statistical data of how many people per square meter can be found on these beaches with few tourists.
What is certain is that in Cala des Tamarells, S´cala and Cala Mica.
They are the three coves with the most absence of people from Menorca, coves with fewer tourists.
All three are located in the north of the island and have characteristics that make them a special place for those who enjoy them.
The Cala des Tamarells or Sa Torreta is accessed after a tour, on foot or by bicycle, of about 2.8 kilometers.
It is located within the grounds of the Albufera des Grau National Park and very close to some prehistoric talayotic ruins of Sa-Torreta.
It is a beach with some algae, but it has white sand and crystal clear waters, and it remains very unspoiled.
In Cala Mica, also difficult to access by car, you will have another environment to see.
The sand is formed by remains of seashells and makes it rougher.
This inconvenience is compensated by the place that has many things to see in the water, so it is ideal for diving with goggles or snorkeling.
South locations
In the southern area of ​​Menorca there is a place that is recommended to be reached by sea.
Beaches with few tourists to enjoy the walk through the whole thing.
It is Son Saura, a land that is made up of two beautiful coves, very unspoilt, and where you can see more boats than people.
It is an ideal place to escape.
Although it has a lot of algae on its shore, it is still attractive to spend a different day.
You can also travel by boat or motorhome to enjoy the island!
---
October 20, 2020
---