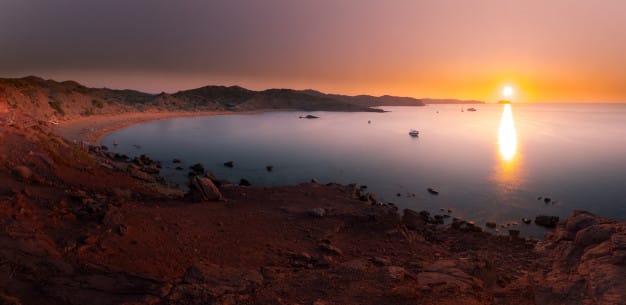 Visit a paradise like Menorca, an earthly Paradise.
Paradise like Menorca an earthly paradise, the great island of Menorca offers countless places; that seem taken from the most remote places of the human imagination, but in reality they are a majesty of nature.
Never forget that in any of the islands of the Balearic archipelago it is necessary to have the security of good transport.
So the first recommendation is to ensure a good car to get anywhere without much effort.
Paradise like Menorca
Once you are in your resting place, always plan what will be the place you will visit the next day.
And keep in mind that you can make an immense list of places.
Although surely the first thing that will come to mind will be a peaceful, unique, inspiring, safe and, above all, accessible place, paradise like Menorca an earthly paradise.
All this will not be a problem. In Menorca, if you have a good car, you can go to any exotic beach, cove or bay in the blink of an eye.
Remember, the walks are to disconnect, to take a break from the routine and enjoy a family, group or romantic getaway that you will always remember.
Calas Macarella and Macarelleta an earthly Paradise.
They are two almost virgin spaces that have been chosen by many bathers in recent years for the practice of nudism or naturalism.
Its turquoise waters paradise like Menorca, its fine white sand, make this bay a wonderful place that will be imbued in your memories.
The beach is divided into two parts, in Macarella you can see some beautiful cliffs, an area full of much vegetation and very green that visually mixes with the land and the entrance of the sea.
In the Macarelleta area, you can enjoy more of the virgin and natural.
Like its older sister, the area has gained fame over the years, and after a well-known beer company recorded a commercial a while ago it became popular.
This area is reached by car to a certain extent.
You have to know the vehicle takes you to just under 2 kilometers from the bay, so it is necessary to take provisions for this tour.
In Macarella there are beach bars  to eat, bathrooms and showers with fresh water, but in Macarelleta the hand of man has not yet taken hold of it.
Cala Presili another earthly Paradise.
The first impression that you get when you enter Cala Presili is that you are arriving at one of the famous spectacular beaches of the Caribbean island.
Just paradise like Menorca. A long bay, also with white sand and turquoise waters.
Are complemented by the landscape that is the culmination of one of the emblematic lighthouses.
That are scattered throughout Menorca: the Faváritx Lighthouse.
It is located in the extreme north and you must bear in mind that it is one of those beaches.
That are, almost, virgin. Its access is located along the Camí de Cavalls, a little before Cala Tortuga.
And, after parking the car, you will have to walk a little more than 1 kilometer.
To fully enjoy this beach paradise like Menorca you must go with many provisions.
Bring water, food, drink, a good cooler, chairs, umbrellas and anything else that protects you from the sun.
You can also travel by boat or rent a motorhome in Menorca to enjoy the island!
---
December 4, 2020
---